Nero D'Avola grapes thrive at Duca di Salapatura's Suor Marchesa vineyards in southwestern Sicily.

Sicilian wines are the rage and for good reason:

This enchanting – but previously below the radar – Mediterranean island is turning out high quality, reasonably priced wines that are gaining attention from global importers.

In fact, U.S. imports of Sicilian wines has increased 41 percent over the past two years.

Two decades ago, it was rare to find a premium bottle of Sicilian wine on stores shelves, except for sweet fortified Marsala.

Duca Enrico, the flagship wine of Sicily's Duca di Salapatura wine house.

Prior to the 1970s, Sicilian "farmers" with little means of financial support focused on making cheap bulk wines used as blending partners. Quality was of little consequence. (To this day, Sicily remains Italy's No. 1 bulk wine producer by volume.)

But a minority of pioneering wine houses – like Duca di Salapatura and Tasca D'Amerita – persevered to craft top-notch still wines. They felt the island's diverse terroirs were worthy of producing excellent wines. They modernized equipment, adopted sustainable farming practices, and authorized strict hygiene standards in the production process.

Quite simply, they focused on quality over quantity.

(For an excellent history of Sicily's modern evolution, read "The World of Wine" by Bill Nesto and Frances Di Savino, available on Barnes & Noble online.)

Today, the curious and the knowing are drawn to Sicilian wines made from native grapes, including Mt. Etna's exclusive Nerello Mascalese.

And Sicily, once known as Italy's "poor second cousin", has rapidly become a wine, food and travel destination.

For this column, I'm highlighting three wines from an historic wine estate, Duca di Salaparuta, founded in 1824 in western Sicily by Giuseppe Alliata. In the 1970s, its Corvo brands became the top-selling Sicilian wines in America.

Despite ownership changes throughout the decades, Duca di Salaparuta has remained true to its core mission to create top-flight wines from indigenous grapes.

In 1984, the winery reached new heights with the release of Duca Enrico, an elegant red wine made from 100 percent Nero D'Avola grapes. Developed with the help of Piedmontese winemaker Franco Giacosa, Duca Enrico cemented the winery's long-standing reputation as a leading innovator.

In the 21st century, the Reina family formed the Duca di Salapatura Group which combined three historic brands – Corvo, Florio, Duca di Salapatura – under one roof. While Florio, founded in 1833, remains a signature producer of fortified Marsala, the Corvo and Duca di Salapatura labels produce a total of 26 red, white and sparkling wines.

Two years ago, the company hired one of Italy's most revered winemakers, Barbara Tamburini, to direct vineyard and production operations.

Barbara Tamburini, one of Italy's leading winemakers, directs viticultural operations at Duca di Salapatura.

In a February 2021 trade article ( Tamburini described her core wine beliefs:

"My philosophy has always included a balanced combination of tradition and modernity. In nature, as in life, nothing is ever taken for granted. I never fail to remind myself and those around me of this. Nothing must be left to chance and requires great attention to technical details to help make the difference. Wine must be followed and as it sends signals, you must react to them, understand them, and not let them escape.

"For me, wine is a work of art, and like all works of art, it is born from the brain and soul of those who created them. It must be considered an expression of nature through human creativity. For this reason, I would argue that the quality of the wines I produce is often my best business card."

In 2019, Bibendi – the Italian wine guide for the Italian Sommerlier Foundation, named Tamburini "Best Winemaker In Italy", an award given in honor of the late, ground-breaking enologist Giacomo Tachis.

A year later, Tamburini received the Golden Pegasus award, the highest honor bestowed in the Tuscan wine world.

I recently researched and sampled three wines from the House of Duca di Salapatura – all of which moved me on the passion scale to visit the island in the near future.

Below are my impressions of these fascinating Sicilian wines.

Duca di Salaparuta Kados Grillo 2018, Terre Siciliano IGT, SRP: $20, abv. 13% – Grapes are estate-grown at Tenuta di Risognolo, on 85 acres of countryside vineyards located near Salemi, an ancient Roman commune (10,900 residents) 22 miles south of the coastal city of Trapani (also the name of the province).

This northwestern corner of Sicily includes the Marsala DOC appellation and is the island's largest wine-producing region. White wines made from Grillo, Catarratto and Inzolia dominate the overall volume.

While plenty of grillo (called "cricket" locally) gets fortified in the crafting of Marsala wine, Duca di Salaparuta has championed the varietal as a quality still wine for decades. Kados Grillo made its debut in 2001.
One certainty about good Sicilian wines – red or white – is that they project a strong sense of place – and Kados Grillo is no exception.
Pouring the wine into a glass is like releasing a torrent of golden and straw yellow rays of liquid sunshine.
Next, with a few swirls of the glass, comes an array of floral and marine aromas, like Mediterranean sea spray. It's easy to see why:
Risognolo's hilly coastal vineyards rise gently from 600 feet to 1,000 feet above sea level. They are hot, dry and sun-drenched.
Normally, vines would bake under the flame-throwing sun if not for the constant, breezy Scirocco winds that provide daily relief. Originating from Africa's Sahara Desert, the winds leave dusty, mineral deposits in vineyard soils that are mainly composed of sandy loam and calcareous clay. (Terre argillose is the local term used to describe the clay-rich inland soils around Salemi.)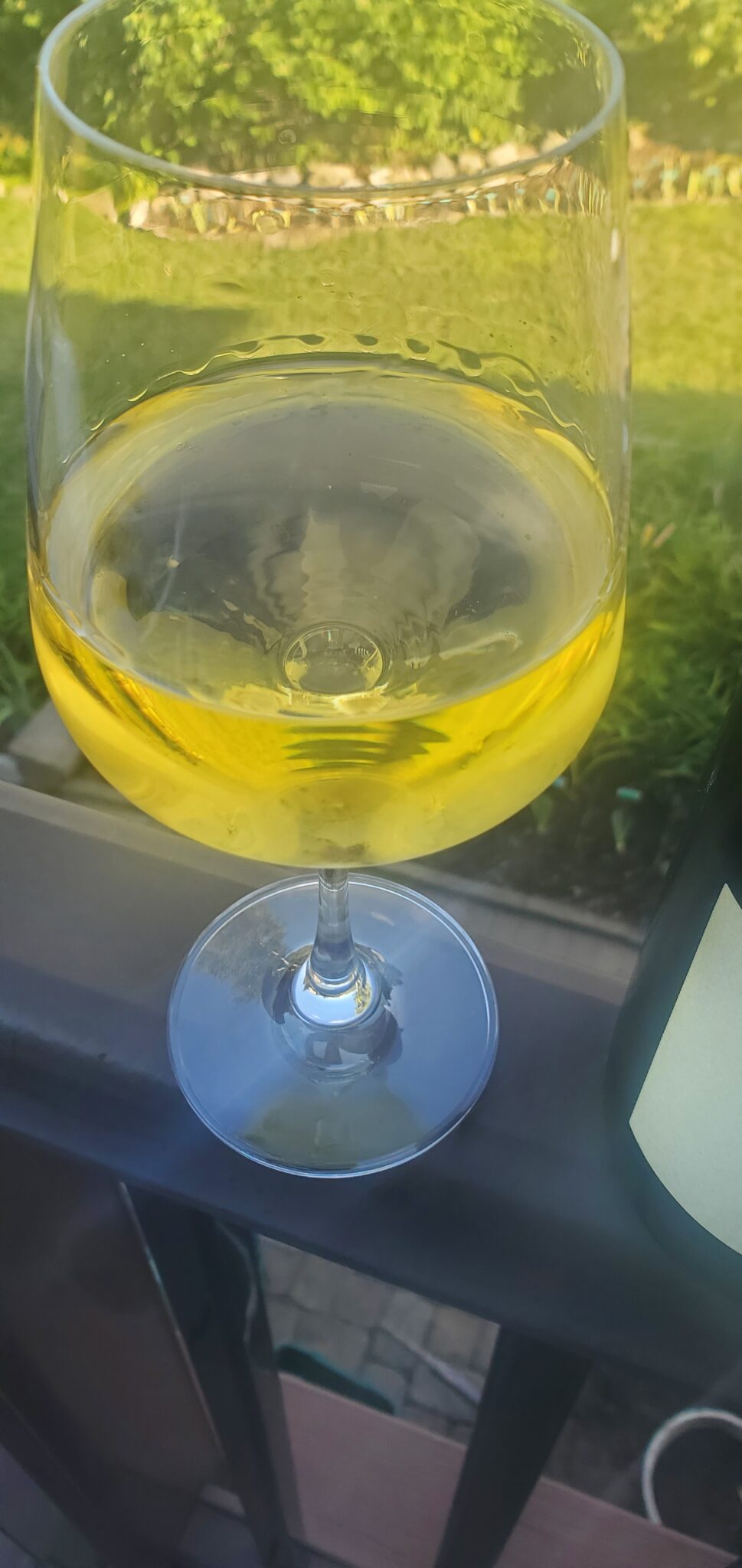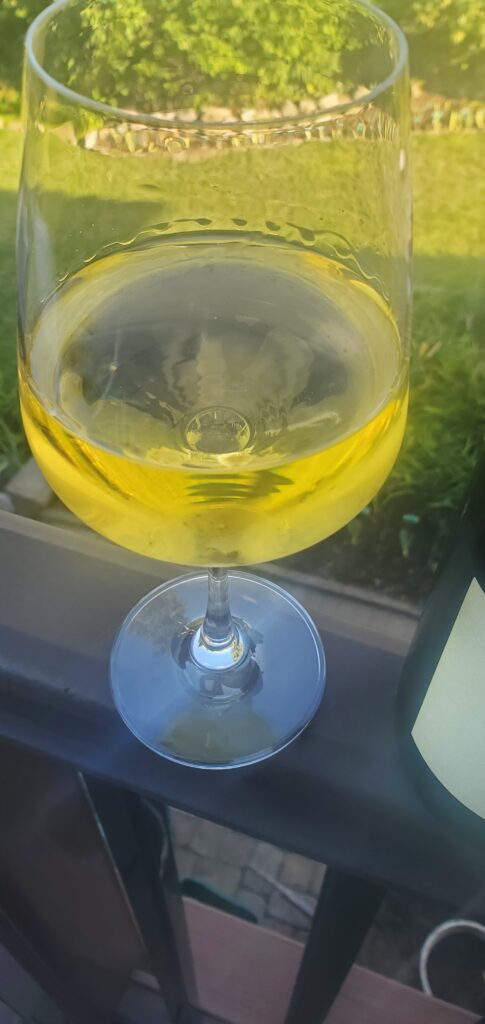 When I first tasted Kados Grillo, I was impressed by its fruity freshness and energy. The wine is layered with sweet and tangy flavors, from lemon and apple pie to citrusy nectarine and apricot. It all meshes exuberantly on a silky, slightly creamy texture which is at the core of this glowing wine.
A key challenge of making Sicilian wines is to retain freshness in the grapes at harvest, especially when temperatures are soaring. At Duca di Salaparuta, grillo grapes are handpicked in September, refrigerated immediately and transported to the winery for pressing and fermentation in temperature-controlled tanks.
According to the winemaker's technical sheets, 55 percent of the first pressing must is left to ferment slowly in small oak casks for 6-7 weeks. The rest goes in stainless steel vats. Once completed, the wine is assembled and allowed to rest on the lees at a controlled temperature until spring. Further aging takes place in bottle (3 months).
The careful process is felt on the palate, where Kados Grillo shows a velvety touch and balanced acidity. It's a good fit with fish dishes, pasta and clams, summer salads topped with chicken or grilled meats, and mature cheeses.
While I like to drink grillo when it is young and bright, Kados' version is built to last up to five years with proper cellaring, according to the winemaker.
Kados Grillo is still a difficult find in the U.S. market, although the winery is making inroads. Vivino.com carries several Kados wines. I'd suggest to keep checking the site or go to www.duca.it for purchase information.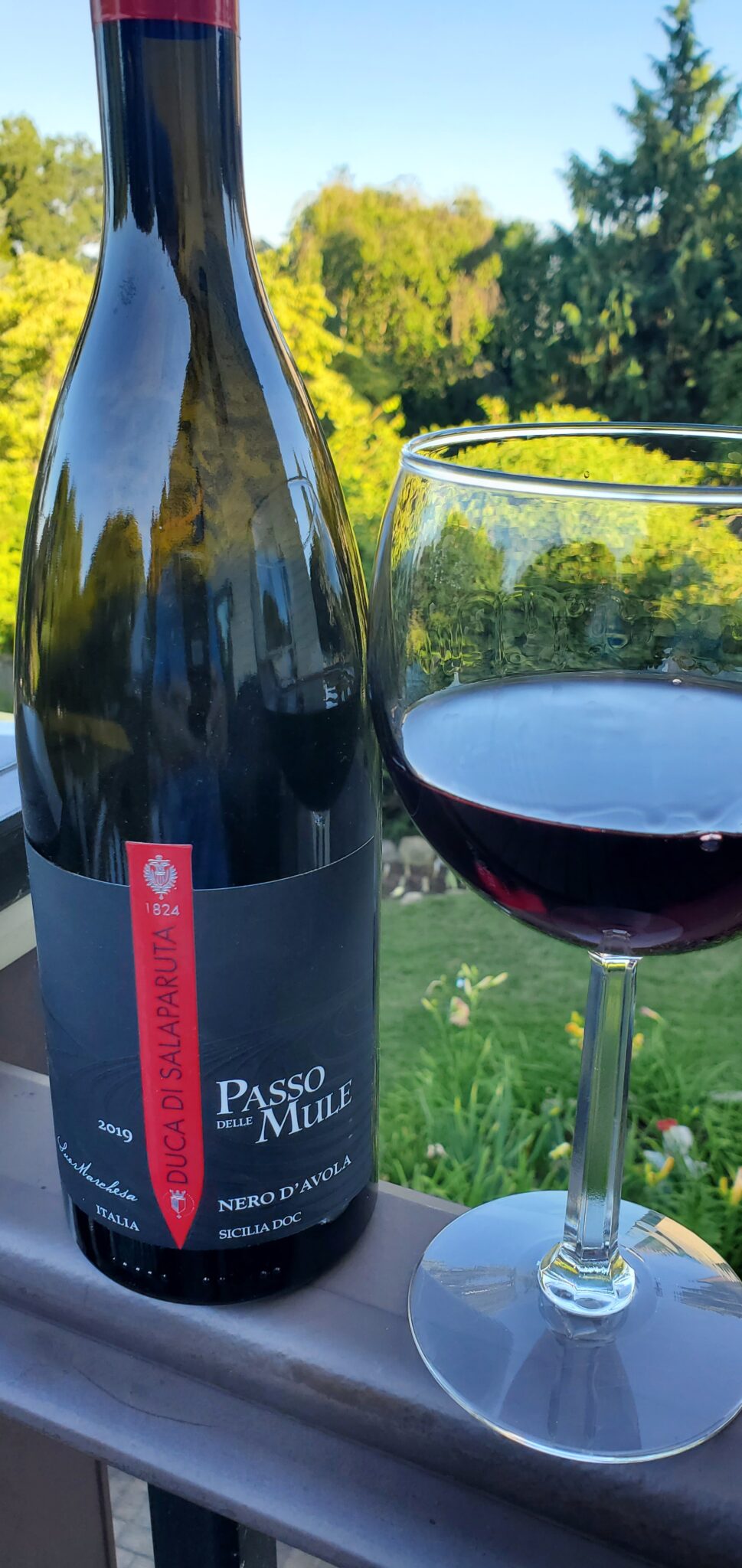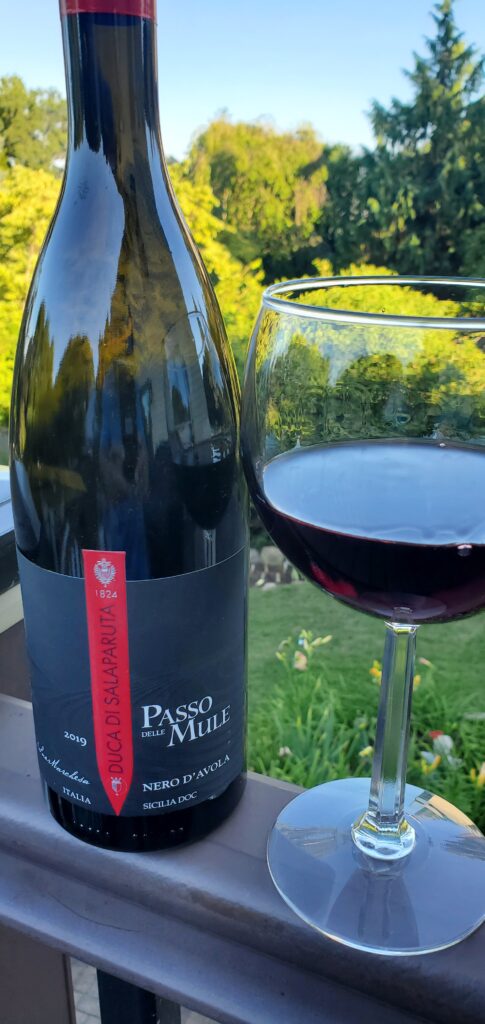 Duca di Salapatura Passo delle Mule, IGT Terre Siciliane, SRP: $ 20, abv. 13% -14% – Nero D'Avola is Sicily's noble red grape and is grown most notably in the island's central and southern wine-growing regions. The coastal town of Avola, near the southeastern city of Siracusa, is considered the grape's original home.
Passo delle Mule is a 100 percent Nero D'Avola wine of deep ruby red color, intense aromatics, and dark red and blue fruit expressions.
Nero d'Avola (historically known as Calabrese) thrives in hot, sunny conditions. It picks up distinctive Mediterranean herbal and brush traits when grown in certain areas around the province of Siracusa. One such place is the commune of Riesi, in the province of Butera. That's where Duca di Salapatura's Suor Marchesa Estate and its 320-acre vineyards are located several miles from the sea on two hilly plots that rise to approximately 1,100 feet above sea level. The soil is a mixture of clay and siliceous matter.
Typically, Nero d'Avola is a high alcohol grape. The key to its success is to craft a balanced wine (with fresh acidity) that can stand up to red meat dishes and other hearty fare without harshness (over-alcoholic wines tend to produce a burning sensation when swallowed).
Check This:The better team won between Ireland and Windies!
Well, Passo delle Mule is nothing but smooth sailing.
After vinification in steel vats, Passo delle Mule matures in fine-grain oak wood for 10 months. Once bottled, it sits for 6-10 months to further aromatic development and soften its features.
The texture is soft, the tannins polished and the taste full of sweet cherry and plum flavors that finish dry and spicy. Overall, the wine is harmonious in all the essential elements that make Passo delle Mule a standout at $20 a bottle.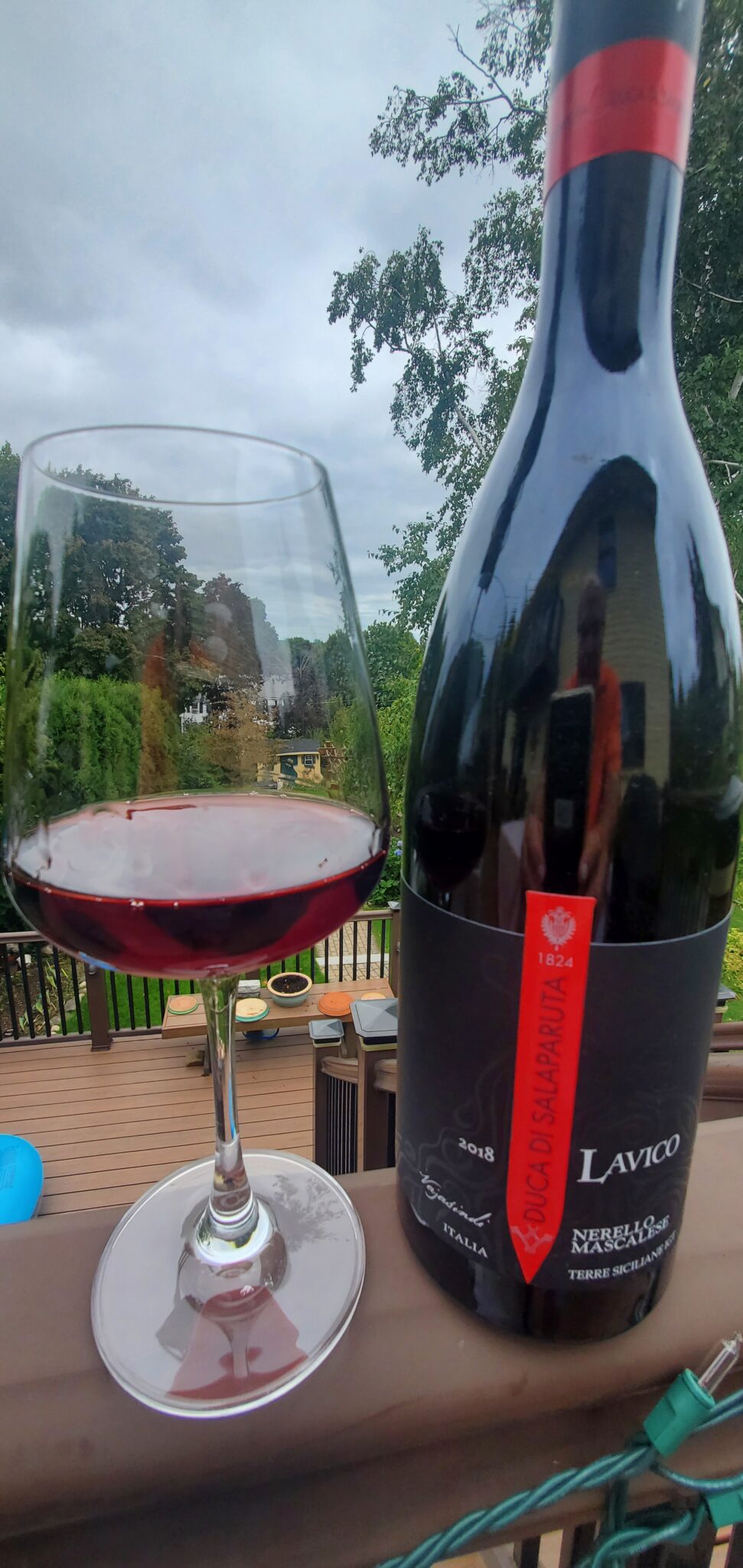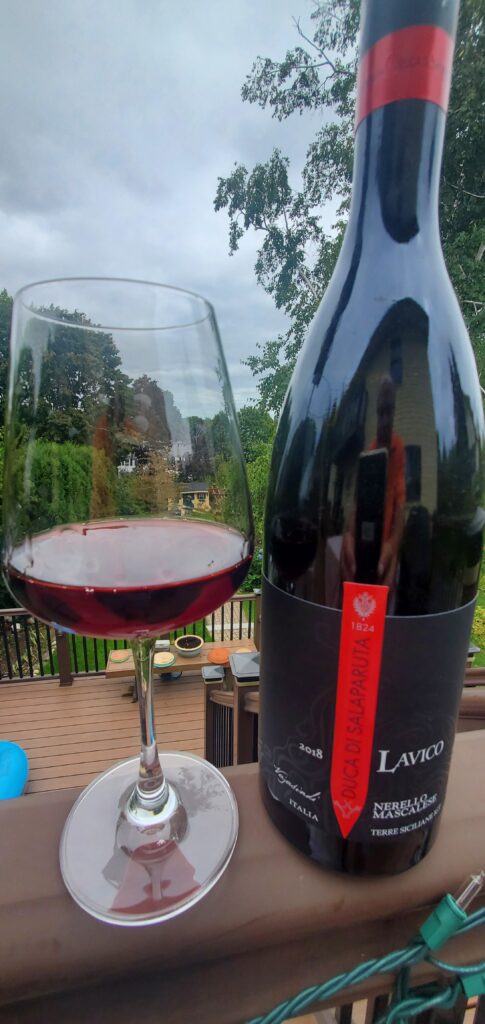 Duca di Salapatura Lavico, Etna Rosso DOC, SRP: $ 20, abv. 13-13.5% – What would Sicily be without its volcanic wines? And here's a beauty, made from 100% Nerello Mascalese – the exclusive, red grape that grows on Mount Etna's steep vineyard slopes and valley floor.
(Note: Mt. Etna remains an active volcano and last erupted in 2002.)
Vineyards at Salapatura's Vajasindi Estate are situated between 1,800 feet and 3,200 feet above sea level. They face the Alcantara Valley in the municipality of Castiglione di Sicilia, which is located at the northeastern rim of Etna's wine-growing zone. (Grapes grow in a half-circle around Etna, stretching from  Randazzo in the north, to Milo in the central-eastern quarter, and to Nicolosi and San Maria di Licodio in the south.)
From the unique soil composition (volcanic) to cool-weather temperatures and rain, there is no terroir in Italy that can match Etna's diversity. Even a short walk from commune to commune can bring a different mesoclimate and conditions which influence a grape's characteristics.
Snow actually falls in winter in Etna's northern vineyards – an occurrence rarely, if ever, experienced anywhere else on the island.
I couldn't wait to sink my palate into Lavico, and I wasn't disappointed.
It's an alluring, medium-bodied wine with the appearance of a ruby red Pinot Noir. The aromas are pleasant and complex, with scents of violets, wild flowers, scrub brush and herbs. In the mouth, the flavor evolves from sour cherry to dark berry jam tinged with a citrusy, orange edge. A mineral lift comes through on the dry, saline finish.
Lavico is partly aged in both concrete tanks and French oak barrels for 12 months before it is assembled into the final wine. Based on Lavico's smooth texture and core balance, the process is a winner for this elegant, ageworthy wine.